Al Fazal Engineering is the leading company to provide its customers with quality and budget friendly electronic products all over Pakistan.
Electric Distribution panel or Electric control panel allows you the safe use of electricity. We follow quality check for our every product to ensure the best for our customers.
We also provide customized control panel to our clients according their requirements.
There are three main types of electrical control panels:
Motor Control center (MCC Panel)

Automation Panel (SCADA PLC Panel)
MCC Panel
We manufacture and supply Motor control centre that are electrical switchboard that contains motor starter section. MCC panels works with LT motors means those that are working on less than415 volts.
Automation Electric Panel
Automation Panel is cost effective and saves money. this is highly effective system using specialized apparatus and leat human intervention.
LT Panel
LT panel on the other hand, are used with low tension cables. It obtains power from the generator and distribute it further to other electrical devices.
ATS Panel
ATS Panel is an awesome product of electrical field. By using our Automatic Transfer Switch (ATS) Panel you do not have to switch to an alternate power supply 'manually'.
It reduces the risk of damage to electric appliances or equipment and loss of data.
VFD Control Panel
It has a relay or a circuit breaker that can trip in case if there is any fault in the input power line, for example over-loading or short circuit.
Electrical panel is consists of
Trip circuit

Closing circuits

Busbars

Cables

MCCBs

MCBs

MPCBs

NO

NCs, etc
Some of the terminologies are explained as
Trip Circuit
It is the part of the circuit breaker that opens the circuit in the event of any fault.
Busbar
In electric power distribution, a busbar (also bus bar) is a metallic strip or bar, usually housed inside switchgear, panel boards, and bus-way enclosures for local high current power distribution.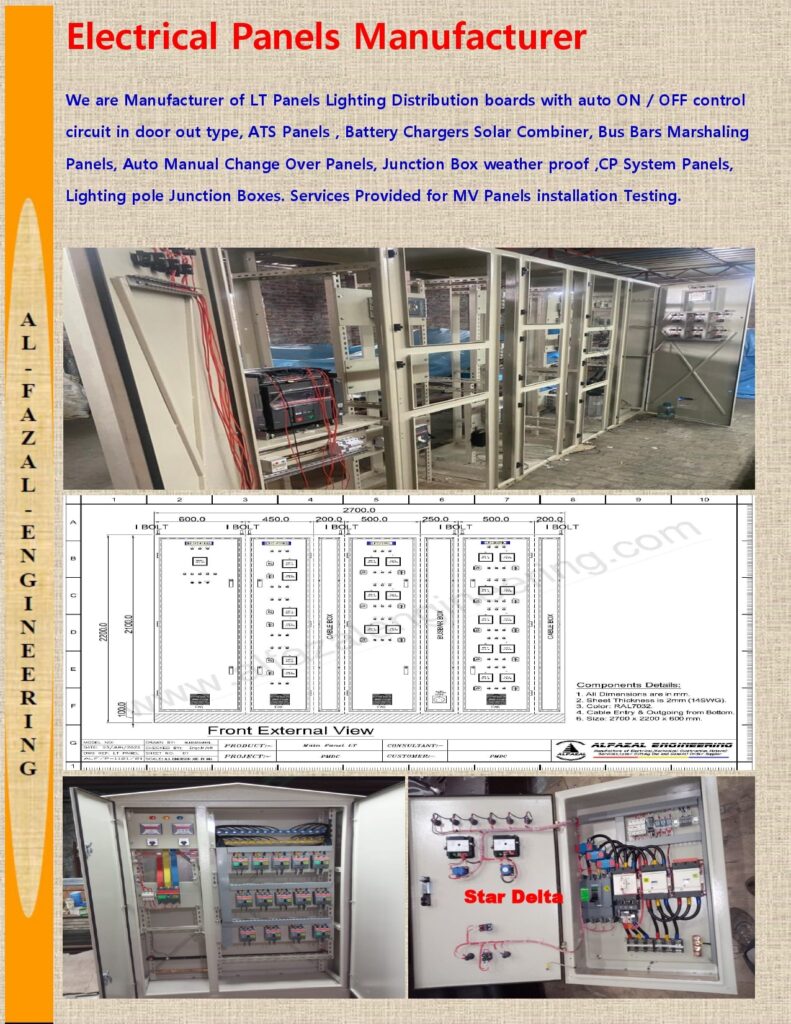 Al Fazal Engineering
We are manufacturer of LV panels Board MCC Lighting panel with automatic on /Off change over distribution board.  Electric panel in Pakistan. stainless steel ss JB indoor out door for house & industry use
Distribution Board In Pakistan
Manufacturer of powder coated SS material and MS material distribution board for general use all types and size for indoor out door use with electrical components wiring busb bars marshling Distrubution Board in Pakistan.